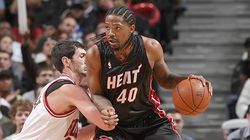 There remains a possibility — however slim — that the Miami Heat could suit up Dwyane Wade, LeBron James, and Chris Bosh next season. However, in order to do so, Miami would likely have to renounce Udonis Haslem's Bird rights, which would prevent the team from going over the cap in order to re-sign Miami's long-time power forward. That would be a shame, but oddly fitting. Haslem has operated for seven years in the shadows of stars, so it's only natural that if Pat Riley were to commit to star power over all else, Haslem would be completely eclipsed.
Udonis signed with the Heat as an undrafted forward out of Florida in 2003, and has essentially been the same player ever since. For some, that lack of development could be damning, but Haslem basically walked in the door as an average NBA power forward. His points per 36 minutes have stayed right in the 11-13 range, his rebounds per 36 between eight and 10, and his field goal percentage more or less at 50%. Haslem is the image of consistency, it's just unfortunate that more people don't seem to see the value in it.
Some team will see that value this off-season, and sign Udonis to long-term deal. Haslem may not be a conventional bargain bin candidate, considering he's made about $30 million over the last five seasons, but I think there's a real possibility that a solid power forward could get sub-MLE money with so many GMs looking upward. This summer is about starting anew and reinvigorating fan bases, and though Haslem is a fine player, it's hard to imagine his name in bright lights.
According to Barry Jackson of the Miami Herald, Haslem said a week ago that he would like to stay with Miami, but was noncommittal on whether he would take less money to do so. It looks like he's going to follow the dollars wherever they go, and if things go according to plan for the Heat (whether they sign two big free agents or three), they probably won't be able to afford him. So Haslem, who has already been contacted by several other teams, will take his game elsewhere; he'll defend well, move the ball, and hit the glass hard (Haslem was 14th in defensive rebounding rate last season). He'll hit from 16-23 feet consistently, work his ass off, and never be a burden. That's well worth the mid-level exception, even if Haslem doesn't get it.