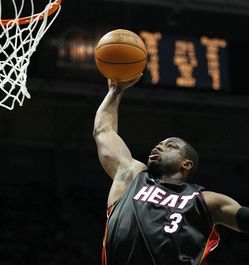 Here's what we know: Dwyane Wade and Heat owner Micky Arison were spotted together talking at American Airlines Arena on Monday afternoon.
That we got from our own Ira Winderman, writing for the Sun Sentinel. We also know the Heat never really made a big, formal presentation to Wade as was done by Chicago and New York. No need, really, Wade has played seven years for the Heat and knows everybody. That kind of presentation would have been all for show. This kind of talk was probably more productive.
You can speculate what this means if you want. That the Heat got the last word in a one-on-one pitch. That Wade was explaining face-to-face why he is thinking about leaving. That the pair wanted to talk about the modern forms and bright colors chosen by the architect when building American Airlines Arena. Any of those are as likely as the other.
But they did talk. That much we know.