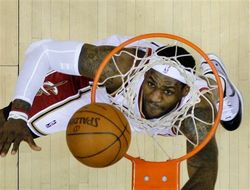 Great news everybody! Another four days of LeBron James speculation! I know that's what everybody really was hoping for.
Right. But according to a tweet from the very well connected Brian Windhorst, James is not going to be announcing his decision for several more days at the earliest.
Sources say LeBron plans to wait until after 3-day Nike camp in Akron is over to announce decision. Ends Wed. nite

Thurs. ironically is first day free agents can sign, cap numbers become official.
That announcement is expected to come first on LeBron's Web site.
There are a couple ways one could look at this. If LeBron is leaving, there is no way he'd make a Monday announcement — you don't want to do a three day camp in your home town right after you broke the city's hearts.
However, you can't say for sure he is leaving. He's got a lot to think about, a lot of options and variables to consider. Waiting to think about all that a little more makes sense.
But until the LeBron domino falls, not many others will. So bring on more rampant speculation!