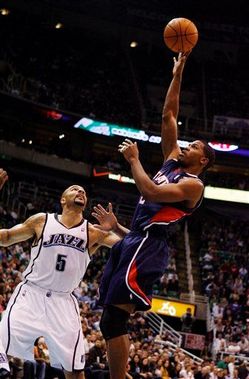 The Atlanta Hawks franchise is worth $306 million, according to Forbes Magazine. They just agreed to terms with Joe Johnson on a max deal — six years and $119 million.
We knew this was coming, and Atlanta-based Sekou Smith of NBA.com just confirmed it.
The Knicks made a hard late push and tried to save the Hawks from themselves, but to no avail. Johnson likes Atlanta and said from the start he would stay if the money was right. This money is more than right.
Joe Johnson is a good player, an All-Star, but he is not a true max-deal guy. He cannot carry a team in the way that LeBron or Dwyane or Bosh can. Paired with a guy like that, his team becomes powerful, but in Atlanta he is surrounded by other good but not transcendent players. That's enough to get to the second round of the playoffs each year. New coach Larry Drew will try to change that with an offense that involves motion in some sense — a nice change of pace — but it may not be enough.
The bigger issue with this deal is the six years. Johnson will turn 29 before next season, meaning he will be 34 in the last year of this contract (when he earns $23 million). Perimeter players see drop-off in their games in their early 30s. By the end of this deal, Johnson could be a very overpaid, one-dimensional shooter. It may be the worst contract in the NBA by 2015.
But for now, everyone is happy. The Hawks got their man, Johnson got his money.