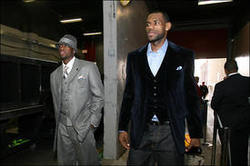 A significant ramification of all of these free agents being free together and wanting to play with each other is the timing. If you'll notice, every one of them is taking their sweet time. Joe Johnson was offered the max-max from Atlanta, and is still waiting to see if he can justify going with New York or Chicago, though he's leaning towards the Hawks' deal. Amar'e Stoudemire may be talking a big game in New York, but he's still meeting with other teams.
And then there's LeBron James, Dwyane Wade, and Chris Bosh.
And if Chad Ford of ESPN has it right, the Big 2 are waiting for the Big Third to make a decision before they put their name on an agreement.
Ford reports that Wade and James both want to be paired with Bosh wherever they go. Bosh may have the most options available to him, with the Raptors' sign-and-trade a distant, and dying, yet still drifting possibility, along with all the other suitors.
The possibility exists here for a fierce competition between Wade and James, inside of the competition between teams for the three, for Bosh's services. Bosh provides the legit big man neither James nor Wade has played with, and they may see him as the answer. Amar'e Stoudemire's seemingly likely move to New York could also spur whoever does not land Bosh to head to New York to pair with him.
It's a remarkably complex set of dominoes, and what's most bizarre, each party is waiting on the others before anyone else signs. The most likely scenario is that James, the crown jewel of this free agency class, signs first, which sets off the dominoes. James can pull in talent wherever he goes, and has the most leverage. There's also the pull of LeBron going back to Cleveland because, as they've reminded him a zillion times this weekend, it's "home." But if LeBron wants to be absolutely sure he plays it safe, this thing could go on a while.
Oh, goody.
I was hoping this thing would go on longer.