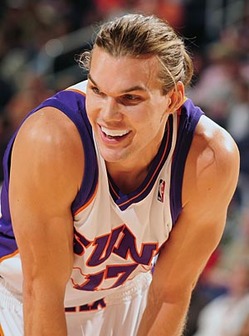 Goran Dragic became a YouTube sensation, Leandro Barbosa has an established rep as a super-sub, Channing Frye reinvented himself, and Jared Dudley won over the world with his never-ceasing hustle and natural charisma. Yet behind them all is forgotten member of the Phoenix Suns' immensely successful bench lineup: Louis Amundson.
It's strange: although Lou is primarily considered an effort player that supplies his team with intangibles, he's actually quite statistically sound. He was tops on the Suns last year in rebounds per minute and second in blocks per minute (first if you eliminate Taylor Griffin's tiny eight-game sample size from consideration). Amundson's teammates don't provide very intimidating competition in either of those categories, but the feat is still impressive given Lou's role on the team.
The best part is that Amundson can take those skills on the road. He can come off the bench for any team in the league and provide instant rebounding, defense, and hustle. That's fairly valuable, even if Lou's contract is unlikely to be. He won't be paid like his frontcourt benchmate, Channing Frye (five years, $30 million), despite the fact that they posted comparable PERs last season (14.4 for Amundson to Frye's 15.0). Channing's size and choice skill just make him more attractive to NBA teams (and the Suns in particular), whereas Amundson's excellence in the trade of the proletariat somehow makes him more ordinary.
That may not be so, or at least not to the degree that their contract differential will reflect. Lou is going to be a great addition for a team looking to add a bit on the cheap, and though he's not the most skilled player in the world, he's shown he can produce. According to Marc J. Spears of Yahoo Sports, the Suns are interested in holding on to Lou, but the Nuggets, the Jazz, and the Bobcats have all come a'callin'. Each of those teams could use Amundson to supplement their current cast of big men, even if the most natural option is for him to stay with the Suns.