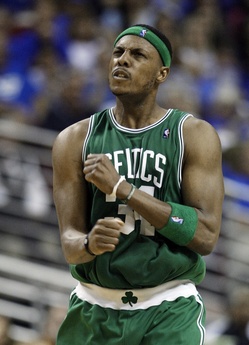 After a few days of haggling over how much it will cost the Celtics to get out of this deal in three years, Boston and Paul Pierce have come to an agreement that keeps the team's talisman in green.
Pierce now has a four-year, $61 million deal agreed to with the Celtics, according to Ken Berger of CBSSports.com.
The sticking point was the partially guaranteed fourth year. Fair bet that the Celtics will be ready to buy out a 36 -year-old Pierce by the fourth year of this deal, as the Celtics will be rebuilding around Rajon Rondo then and will be ready to go younger. No word yet on what number the two sides settle on for that buyout.
So the Celtics are getting the band back together. They have Doc Rivers and Paul Pierce back. The only question now is Ray Allen.