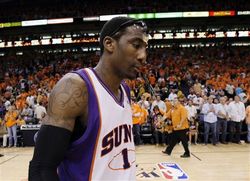 Amar'e Stoudemire is going to be what every Knicks beat reporter dreams of.
Stoudemire is in New York to visit with the Knicks tomorrow, and decided to check out the play he's helped produce on Broadway, "Rock of Ages." He got a warm welcome to the New York media when two reporters tried sneaking into the play while it was going on to ask him questions. Then he took some questions outside. And decided to drop a few bombshells.
Take it away, New York Daily News!
"I've talked to Carmelo Anthony that he needs to come out here,"
Stoudemire said. "I've talked to Tony Parker. Both guys are ready to
join me if I decide to come here. So we will see if we can work it out."
Riiiiiiiight.
Stoudemire is unlikely to get fined by the NBA for such behavior. The league usually doesn't fine players, only teams, for interfering with the process, especially if the player is a free agent. But if true, Stoudemire's pretty far out there on an island in terms of involving himself in the recruiting process of players who aren't even free agents.
Of course, that's if it's true. Which it can't be. There's just no way that Carmelo, heavily rumored to be in the final stages of a new contract with the Nuggets or even Parker, heavily rumored to be interested in New York, would want to damage their respective situations with such a statement. Even if they did say it, expect a heavy stream of denials on this from all parties.
But in the meantime, let the speculation commence! Welcome back to the basketball media relevancy party, New York!