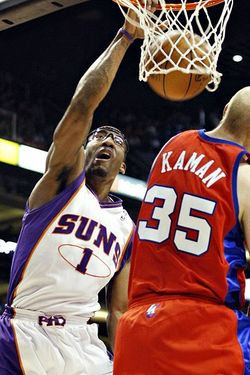 Mike D'Antoni called Amare Stoudemire minutes into the new free agent period this week and said it was time for them to bury the hatchet, because they wanted him in New York.
Is there a better place to bury the hatchet than brunch?
No, no there is not. An omelet bar and lukewarm eggs benedict is the perfect makeup meal.
Stoudemire and D'Antoni did not part on good terms from Phoenix. But now, a few years later both have matured. And both need each other. Amare has wanted to be out in front, now he will be. D'Antoni gets an All-Star perfectly suited to run his offense.
So the hatchet was buried. Tomorrow the deal should be finalized, and Stoudemire will be the Knicks big free agent signing. With all that comes with that.
Now Stoudemire and D'Antoni need to team up to recruit more elite player to run with them. Or things will get ugly fast. Uglier than a lukewarm eggs benedict.