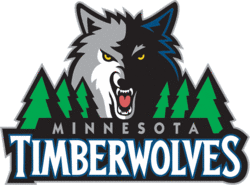 So you're David Kahn. You've just signed Darko Milicic for $20 million. You drafted a 23-year-old combo wing the same night you traded for Martell Webster (and drafted another small forward). You have one significant trade chip, Al Jefferson, who's a phenomenal young player that for some reason you don't want and who has great trade value, except you've buried it because you've tried offloading him too hard. So what's your next move after locking up all your cap space?
Inviting David Lee for a meeting, of course!
The Minnesota Star-Tribune reports that Mark Bartlestein, Lee's agent confirmed that Lee is still meeting with the Timberwolves today despite the fact that the Wolves have less than $7 million in cap space after their offseason moves thus far. So why is Lee headed up north?
The Wolves could conceivably trade Al Jefferson and cap space to New York in a sign-and-trade for Lee.
That's right. David Kahn could be looking at trading a versatile offensive post player whose defense he questions for a talented, high-function power-forward whose defense is questioned by everyone else.
Lee's rebounding numbers are terrific,and he's certainly worth a hefty contract, much bigger than the one-year deal the Knicks tossed at him last year. But Minnesota makes no sense. For Lee, or the Wolves. And certainly not for Kevin Love, who has to wonder what in Kevin McHale's name he's got to do in order to garner significant support from the Wolves.
In the words of many, many of my colleagues:
Kahn!