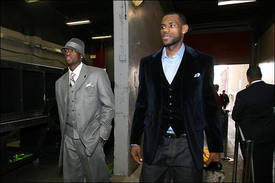 Friday night, the Chicago Bulls had a tandem with them in a room — Dwyane Wade and Chris Bosh — that combined could turn them into an instant title contender.
Tomorrow, Bulls brass will be in a room with LeBron James, who alone could turn the team into an instant contender. If you paired James with Wade — or Bosh, who may be the better fit — in Chicago, LeBron could be at the head of the next decade's super team.
The Bulls have caught everyone's attention. Fans. Media. Most importantly, Wade, Bosh and LeBron.
Wade left the meeting on the fence, but is leaning toward coming to the Bulls, according to Chad Ford at ESPN. The rumor is the Bulls plan to put pressure on LeBron to commit at the end of their meeting Saturday (a bold but risky move,). Wade is going to meet Saturday with the Heat, and he likely will get the same pressure.
But don't expect a hasty decision, Wade told our own Ira Winderman (writing for the South Florida Sun Sentinel).
"It's going to take the weekend for everyone to think about what they want to do. This is not an easy decision to make."
Suddenly you can hear Aretha Franklin in the background, singing, "You better think (think) think about what you're trying to do to me. Yeah, think (think, think), let your mind go, let yourself be free."
There's a lot to think about. Of course that start's with money — the Bulls are just short of having enough to sign both Wade and LeBron to max contracts. The Bulls could free up more cap space with trades of minor players like Taj Gibson, but they'd be a little bit short. They'd have plenty of money if they could move Luol Deng, but that's not going to happen.
Then there's the Bosh money issue. He doesn't have near the endorsement deals that LeBron or Wade have, so he wants a sign-and-trade wherever he goes so he gets six years and more money. That's more money than you can get just signing as a free agent. But would Wade or LeBron be good with being on a team where they were not the highest paid player?
Another question — and one rumored to have been talked about at the meeting — is how well all these guys would play together. Derrick Rose is mesmerizing with the ball, pretty nondescript off it. And he would spend a lot of time off, because both Wade and LeBron need the ball in their hands. All three are good passers, but there still is just one ball on the court (and don't bring up the Olympics as an example of how well they played together, what happened on that team of stars was not transferable to an NBA regular season game).
There are so many variables, so many things to consider. So many things to think about. Think. Think. Let your mind go, let yourself be free.