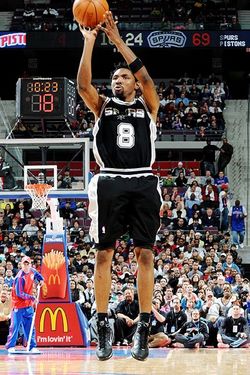 When the San Antonio Spurs picked up Roger Mason Jr. two years ago in free agency, it was an absolute steal.
Mason seemed like an ideal fit alongside the Spurs' big three; as a knock-down shooter who could fill in at either guard spot and handle the ball a bit, Roger fit the Spurs' needs of skill specialization and positional versatility brilliantly. He thrived in his first year with the Spurs, and was worth every penny of his $3.5 million salary in averaging 11.8 points per game and 42.1% shooting from three.
However, on the second year of his deal, Mason's production fell off a cliff.
Surgery on his shooting hand had a fair bit to do with that, but it remains to be seen whether Roger can really bounce back. His three-point shooting percentage plummeted to 33.3%, he was buried in the rotation behind the healthy Tony Parker and an emerging George Hill, which made him very much an afterthought in San Antonio's '09-'10 season.
Roger only vaguely resembled the clutch shooter the Spurs had relied on just a year prior, causing San Antonio to lose their interest in playing him, much less re-signing him.
Other teams, however, apparently have enough faith in Mason's ability to rebound (not literally) to give him a call, even if San Antonio doesn't seem too interested. According to Marcus J. Spears of Yahoo Sports, the Chicago Bulls, Miami Heat, New York Knicks, and Los Angeles Clippers are all interested in Mason, and Jason Quick of the Oregonian reported that the Blazers, too, have expressed interest.
The Blazers are the odd team of the bunch, but the others make a bit of sense. As Chicago, Miami, New York, and L.A. look to surround their higher profile talent with low-salary players, guys like Mason are immensely valuable. All of those teams will need perimeter shooting to complement their newly-signed stars, and Roger's ability to at least pretend to be a point guard will definitely come in handy. Minimum salary guys are typically energy players or specialists, and Mason could be a relatively cheap way to bridge the gap between the team's elite players and the bargain bin finds.