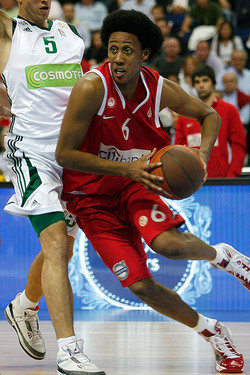 In a few days, LeBron James, Chris Bosh and Dwyane Wade will figure out their dance partners. (Let us hope it is only a few days.) Then Joe Johnson will finally accept the max deal with Atlanta we all know he is going to take.
And then Josh Childress' phone is going to start ringing. Off the hook.
You remember Childress? Dynamic athlete, maybe the best sixth man in the game a couple years ago. Easily the best afro in the game. Was part of the young core in Atlanta. Then they lowballed him with an offer, so he jumped ship to Olympiacos in Greece for a couple years. He played very well over there, leading the team to a Greek league title and the EuroLeague finals.
Well, he's coming back, and his timing couldn't be better.
With Rudy Gay locked up (max deal) and Joe Johnson about to be locked up (another max deal), Childress will be the best swingman available. And a lot of teams need swingmen. Even the Washington Wizards are rumored to be interested. But Childress is going to get some healthy offers from all over, with a lot of buzz already starting to build.
The Hawks retain his rights and can match any offer. But if Johnson takes the max deal in Atlanta, they are not going to match another large offer to keep Childress.
He could play one more season in Greece, if he wants (although the Greek media are convinced he is gone). We want him back in the League. We miss Chill.