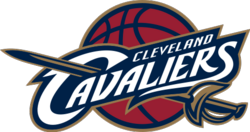 LeBron James meets the final two suitors for his free-agent services this morning, and on his way in, the fans of the Cleveland Cavaliers have made it very clear that they would like him to stick around for a few more, well, careers.
Brian Windhorst of the Cleveland Plain-Dealer is outside the meetings and reporting on Twitter from the scene:
"There are hundreds of Cavs fans in downtown with
team-provided signs lining street to meeting. Outside building fans
chanting 'Noah sucks'
and:

"Cavs just arrived in van & SUV. Fans threw
powder in air over cars as they entered garage. It's a scene."
But can you blame them? There's a lot of talk about this being a "don't-lose" situation for the Cavs. As in, the city and fanbase would be devastated if he left. But they genuinely love this player. He's from Akron just up the road. He represents a true Ohio superstar, and those don't come around hardly ever in this day and age.
But even further, this whole situation is more than just about a player. It's about Cleveland not wanting to be the bride's maid, again. About them not wanting to be passed up for a bigger market. They have terrific fans there (even if historically they haven't supported the Cavs) and they want to show James that there are more important things than just fashion line deals and Pat Riley's promises.
If the Chicago fans will always love Jordan, and the Knicks fans will always judge harshly because it's New York, and the Miami fans are at the beach, Cleveland wants to show James that no one will ever love him the way they love him. As a native son, as their icon, as their star.
But still. Powder? Really? Really?!