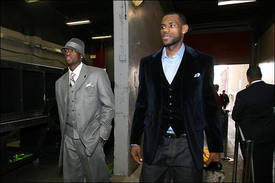 According to Wojnarowski, Wade coming to the Bulls could represent the best chance LeBron James has at joining forces with another superstar: 
Wade and James have been discussing the possibility of playing together, but the major hurdle to the starry alliance remains James' reluctance to join Wade in Miami, sources say.

"D-Wade and LeBron want to play together, but neither one wants to commit to each other," a source with knowledge of the conversations told Yahoo! Sports on Friday.

Sources say that Wade is intrigued by the infrastructure of talent the Bulls have to surround him, especially in contrast to how gutted the Heat roster has become in the clearing of salary cap space.

The Bulls are trying to line up a commitment from Wade prior to their formal presentation with James in Cleveland on Saturday, sources said.
If accurate, this report means that the face of the free-agent bonanza has significantly changed in the past couple of days. Previously, it was thought that Chicago was on the verge of pairing LeBron James and Chris Bosh, and Wade was busy recruiting superstars to join him in Miami. All of that has changed now.
Bosh reportedly does not want anything less than a max deal, and the Bulls have had trouble moving Luol Deng. If they cannot move Deng, they will not have the money to give both Bosh and James max money. Since Wade and James have significantly more endorsement money coming in than Bosh, they are more likely to take minor pay cuts in order to play for what would be an instant title contender. 
If these rumors are true, it hurts the Heat in two ways. The first, obviously, is that losing Wade would effectively gut the Heat franchise. The second way these rumors hurt Miami is that even if Wade does come back, Miami needs Wade's commitment in order to recruit other major free agents to join the Heat. If Wade spends too much time flirting with other teams, Miami will have a very hard time building the effective FrankenTeam of Pat Reily's dreams, even if Wade does eventually return. 
The balance of power has been shifting by the hour over the past couple of days — with Wade reportedly interested in signing with his hometown team, the Bulls have become the team of the moment. We'll see if they're still on top of the heap when the sun goes down.