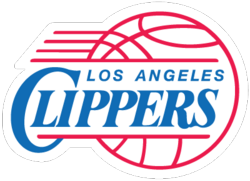 At first glance, LeBron James and the Clippers don't seem like much of a match. James was the most-hyped prospect of all time, and now he's the most-hyped NBA free agent of all time. He's won the last two MVP awards running away. He won't be considered one of the true greats, or even the consensus best player in the NBA, until he wins a championship, but what James has accomplished as a 25-year old has been historic nonetheless.
The Clippers, meanwhile, have historically been one of the most incompetent franchises in any major league. They've never won a championship, a conference title, or a division title. They have one of the worst owners in sports. Thelast free agent of James' magnitude the Clippers signed was Bill Walton, and that didn't work out very well. The Clippers play in the same building as the mighty Lakers, but if you've ever been to both a Laker and a Clipper game, you know that it's a completely different experience. (The Lakers lower sheets over the jumbotron and play clips of past glories set to an epic score and the voice of Chick Hearn; The Clippers have the Corona "Starting Lime-Ups." Also, the Clippers' pre-game slogan this season was "You Are What You Repeatedly Do," which seemed like a questionable choice for the team and franchise.)
Despite all of that, LeBron James granted the lowly Clippers a meeting on Friday, and it may be wise for him to listen to what they have to say. To be clear, Donald Sterling, the Clippers' second-tier status in Los Angeles, and the fact the Clippers still don't have a coach will almost certainly keep LeBron from signing with the team. Still, there are some reasons why The King Of Free Agency should give some consideration to the NBA's resident court jesters:
1. James would fit very well with the pieces the Clippers have in place.
LeBron James is at his most effective if he has the following players around him: A power forward who's deadly on the pick-and-roll, a point guard who can penetrate, draw the defense to him, and free up James to move without the ball and finish plays, and a knock-down perimeter shooter who can score in bunches. In Blake Griffin, Baron Davis, and Eric Gordon, the Clippers have all three.
Griffin has been billed as an Amar'e-like force on the pick-and-roll with less of the defensive baggage. Gordon has three-point range, can score 15-20 points a game with ease, and is an extremely efficient scorer for a two-guard. Baron Davis, when motivated and in the right system, can still be a dynamo in the open-court, and has always been an excellent passer. At center, there's Chris Kaman, who was a bright spot for the Clippers last season and has emerged as a very good NBA center.
Of course, there are major questions surrounding LeBron's potential supporting cast. Gordon is undersized defensively, and went through a sophomore slump last season. Davis has had major trouble staying healthy and motivated throughout his career, and isn't a very efficient scorer even when he is healthy and motivated. And Blake Griffin hasn't played in an NBA game yet. Even so, if Chicago can't get their hands on a big-name power forward in free agency, you can make the case that the Clippers could build a better "core" around James than any other team could. (For more on this, I invite you to read Kevin Arnovitz's take on the issue.)
2. Los Angeles is still Los Angeles.
The Clippers' drawing power isn't dead; it's just been dormant for a very long time. If James can make the Clippers into contenders, he'll galvanize the Clipper fanbase and open up a world of marketing opportunities. The Clippers won't be the biggest ticket in town as long as the Lakers are in title contention, but there's more than enough room in Los Angeles for two major basketball teams.
Remember that LA is a gigantic market, doesn't have an NFL team, and USC football is on the decline in a big way. There's an opening in Los Angeles for another big-time team, and the Clippers could easily become that team. Did anyone care what color Dwight Gooden's jersey was during The Summer of Doc?
3. Saving the Clippers could be good for LeBron's image in a way that Chicago wouldn't be.
Let's be honest: James' behavior has turned a lot of fans off, especially during this off-season. After losing to the Celtics in the playoffs, James has made a lot of people feel that he's trying to make his free agency overshadow the rest of the important goings-on throughout the NBA. After all the hoopla and the lack of championships to show for it, James could use an image renovation. 
Staying in Cleveland would be the most "noble" decision LeBron could make, but Cleveland doesn't have a true running mate for LeBron and likely never will. Chicago could give LeBron a championship-ready supporting cast, but signing with them could make it look like James wants glory delivered to him. New York can give James the bright lights and the big city, but they have nobody to put around LeBron, and signing there would look like selling out in the worst way.
If James went to the Clippers, he'd have a capable supporting cast with a potential running mate in Blake Griffin. He'd be in the biggest basketball market in the world, but would still keep some of the underdog appeal that he's all but lost completely. He'd instantly become the most important Clipper of all time, and he would always have the undying and unwavering support of one of the NBA's most hard-luck and loyal fanbases. Remember the Clipper crowds during that 2006 playoff run?
The Clippers could represent a kind of happy medium for LeBron — a Chicago-like supporting cast, a New York-like opportunity for marketing and brand expansion, and a Cleveland-like appeal to nobility and cult-meets-mainstream appeal. I very much doubt that LeBron will actually consider the Clippers a legitimate free-agency destination during this process. But maybe, just maybe, he should give some real thought to signing with Los Angeles' other basketball team.