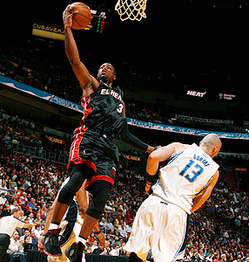 Let's be clear about this — Dwyane Wade is going to be in a Miami Heat uniform at the start of next season. He is going through the motions of meeting with other teams; other teams are going through the motions of presentations. But everyone knows how the movie ends.
That said, Wade exited a two-hour meeting with the brass of the New York Knicks and said (according to Alan Hahn of Newsday):
"it went well…I have to say I'm intrigued."
If the reports are correct and Amare Stoudemire lands in New York, he would be a formidable pairing with Wade. That team would attack the rim like no other. Stoudemire certainly was option No. 2 for Miami if it could not get Chris Bosh (Carlos Boozer likely jumps into that spot). So clearly other teams pictured Wade and Stoudemire together.
Still, as crazy as free agency has been, nothing would be more shocking than Wade leaving Miami. Well, LeBron to the Clippers, but that's it.