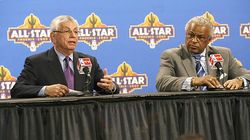 Timing is everything.
Back at the All-Star break, players scoffed at the first Collective Bargaining Agreement submitted by the owners, one that called for a hard salary cap and other major changes. The owners gave that to the players on the same weekend that David Stern was claiming the owners would lose $400 million this year.
The players submitted their proposal to the league — right as owners are on an orgy of spending, throwing big money after mediocre players, making it look like money is no object.
Ken Berger from CBSSports got the league to acknowledge they got the document. Here are the key points:
* The soft cap with exceptions stays in place, similar to current system (owners wanted a hard cap in their proposal).
* More aggressive revenue sharing between the teams. (That was not in the owners proposal, with the league saying owner revenue sharing and the CBA are separate issues.)
* A looser interpretation of restricted free agency that should be more to the owners liking. For example, a system that would not have pushed Memphis to make a max deal offer to Rudy Gay to avoid dealing with a front-loaded contract from a team such as New Jersey.
* Changes to make it easier to trade a player who was recently signed to a deal, facilitating more trades.
The owners will look at this and have the same reaction to it — which basically calls for the status quo — as the players did to the owners' proposal that called to radically shift the financial playing field for the league.
Basically, we are all still on pace for a lockout next July 1. Imagine how much fun it will be a year from now to read tweets and updates from some hotel boardroom about negations over a CBA, not free agency?