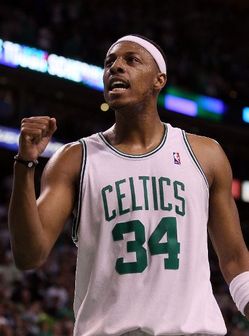 This was never about leaving Boston, this was always just about business and a deal that would extend into the new Collective Bargaining Agreement.
Paul Pierce has agreed to the framework of a deal to remain with the Boston Celtics — it's a four-year deal at about $61 million (according to CBSSports.com's Ken Berger), although the last year is only partially guaranteed, so the Celtics could buy Pierce out at that point. Exactly how much that buyout would cost is one of the details still being negotiated.
This contract would be about $6 million a year less than the $21 million he was set to make this year, according to the Boston Herald, which broke the story. With the Celtics over the dollar-for-dollar luxury tax, this reductions saves Boston about $12 million next season.
The years was always really the issue, Pierce will be 33 at the start of next season. This very well may be his last contract. And it seems only fitting that he will retire as a Celtic.
With Doc Rivers back for one more season, and now Pierce under contract, the Celtics are going to make one more run at it with this group before starting to rebuild around Rajon Rondo. The only question left is whether or not to bring back Ray Allen, and at what price.