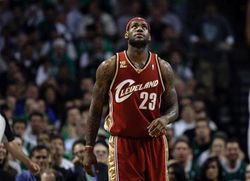 For months, marketing experts have been saying, "It doesn't matter where LeBron James plays, he makes the same money anywhere, he is a brand unto himself."
The focus of the New York Knicks' pitch to LeBron yesterday (and a specially prepared report for the meeting): Hell yes it matters. Forbes got a hold of the PowerPoint that says, basically, you can only make $1 billion in New York. And you want to make $1 billion, don't you? You are not going to make that in Miami and Cleveland, and probably not in Chicago. Why? Because we're New York.
To come up with the numbers for the Knicks, Interbrand says it ran through 50,000 computer models of a potential LeBron career, using more than 200 variables like individual performance, fan demographics and championships. The report is light on the details of its methodology, but comes to this conclusion: LeBron has a 50% chance of earning at least $1 billion in New York. In Cleveland and Chicago the odds fall to 1%. The study put a 0% chance of LeBron making $1 billion playing for Miami.
Sound fishy to you? It does to CNBC's sports business reporter Darren Rovell as well, as he tweeted:
Knicks tell LeBron he can earn $1B+ by going to NY. What it proves? Pay a firm (InterBrand) enough $, they'll justify a #.

Key to the bogus InterBrand LeBron study? They ASSUME he'll play for the Knicks for the next 13 years.
It may have sounded fishy to LeBron as well. The most connected reporter in Cleveland, Brian Windhorst of the Plain Dealer, tweeted this:
Here's what I hear from yesterday: LeBron interested in Nets pitch but not so much NY. NY trying at moment to secure Amare' to help cause
Here's the thing — where LeBron can make the most money is shoe deals, particularly his international Nike deal in places like China. He gets a piece of the pie, but that only matters if you sell a lot of shoes. In China and Chinese culture, titles matter. That is why Kobe is crushing him in sales oversees (plus Kobe's whole marketing plan in China, which includes his own China foundation that does charitable work in the country, spreading good will).
James becomes more marketable, sells more gear, makes more money when he wins it all. And where can he best do that… Don't think the PowerPoint covers that.