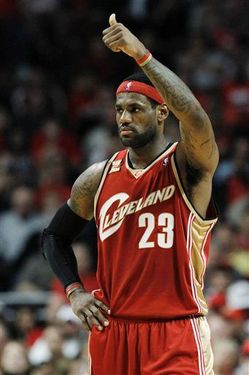 In all the talk about pairing up top players — LeBron and Wade in Chicago; LeBron and Bosh in Chicago; Bosh and Wade in Miami; Bosh and Wade and LeBron in Miami — nobody talks about Cleveland.
But it could happen.
What if Cleveland re-signs LeBron and does a sign and trade with the Raptors for Bosh. Brian Windhorst of the Cleveland Plain Dealer says it could happen.
All these teams working on big-name partnership includes #Cavs. Source said Raptors like some of Cavs players in potential sign-and-trade.

Cavs could provide package of prospects, veterans, expiring contracts and instant salary-cap relief to Raptors. Difference between Cavs position and others, they can also take bad contracts from Raptors to aid rebuilding effort. Heat, Bulls can't.
Of course, this means getting LeBron to re-sign and already having Chris Bosh and the Raptors on board with the deal. But with the once-sure thing of Dwyane Wade staying in Miami suddenly looking shaky, just about anything can happen. And Cleveland has the parts to make it work.