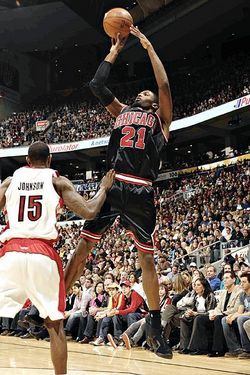 After a final offer to Amar'e Stoudemire was rejected — the two sides could not agree on guaranteed years — the Suns turned their affection to Hakim Warrick.
And it was a quick romance, the two sides have agreed to a four-year, $18 million deal, according to Marc Spears at Yahoo.
Warrick is a nice power forward to bring off the bench — pretty good shooter (49 percent for his career) who can get to the line and is decent on the boards. He's the kind of athletic big man who fits well in the Suns system. It's a nice pickup, and considering Darko got $20 million it's a fair price.
But Warrick is no Stoudemire. Make no mistake, this is a step back for the Suns. And Steve Nash can't be happy right now.