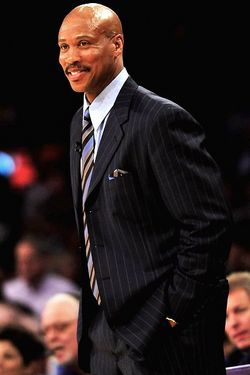 New Cavaliers coach Byron Scott was
introduced at a press conference on Friday
, and appealed to LeBron James' desire to run on the court and stay in his hometown off of it.
With his size, end-to-end speed, ability to change directions, and court vision, James is arguably the best open-court player in the league. One criticism of former Cavalier head coach Mike Brown was that he had LeBron and the Cavaliers play a grind-it-out style that emphasized defense and ball control instead of placing an emphasis on getting James and his teammates out into the open floor.
Scott, who spent much of his playing career as Magic Johnson's backcourt mate on the "showtime" Lakers, says that he wants to turn the Cavaliers into more of a running team:
"I can't let go of my roots, I want to run (on offense). We'll still run some Princeton but emphasis is to get up & down floor."
That may be what LeBron wants to hear, but recent history doesn't back Scott's claim up; in Scott's last two full seasons as Hornets coach, New Orleans finished 26th and 28th in "pace factor," despite the fact he had Chris Paul as a point guard.
When asked about LeBron James, Scott said that he had spoken to people "close to" LeBron, but not James himself. Regarding James' free agency status, Scott said that he won three championships in his hometown, and that there's "not a better feeling."
The two other major pieces of news from Scott's press conference were that there is NOT an opt-out clause in Scott's contract if the Laker job becomes open, and that Paul Pressey will be Scott's lead assistant.