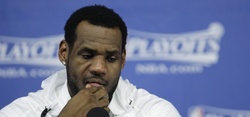 Just so you are not in the dark about LeBron James schedule:
Thursday: Nets and Knicks
Friday: Heat and Clippers
Saturday: Bulls and Cavaliers
Sunday: Fireworks and barbecue
Okay, we have no confirmation on the Sunday part, although we feel good about it. But the rest of it has been confirmed by Chad Ford and others. Ford adds this little tidbit:
If I were you, I'd read some significance into the Bulls and Cavs getting the last pitch. Multiple sources continue to believe that LeBron is still leaning toward Chicago and Cleveland at the moment.