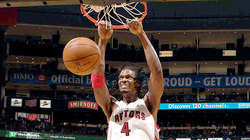 Chris Bosh may be the key to the whole free agent summer — wherever he lands, he is going to be paired with another star. And that team is going to be instantly a contender. A lot of guys are going to change jerseys this summer, but he is the one who will bring winning with him.
And when the floodgates opened at the stroke of midnight Thursday, Bosh got a lot of love. He tweeted about it:
It's been an exciting first couple of hrs. Got some interesting visits and presentations from Houston, Toronto, Chicago and Miami. We'll see who else will come out tomorrow.
Look at that list. He is not going back to Toronto, but if he lands at any of the other three, they instantly become contenders.
Don't count out Houston. First, picture him along the front line with Yao Ming, with that Aaron Brooks/Kevin Martin backcourt. That would instantly be the team in the West that is the biggest threat to the Lakers.
That's the pitch (as Chad Ford laid out at TrueHoop). If Bosh goes to Miami with Wade, how good is the supporting cast. Same anywhere he goes with LeBron (although Chicago could be the exception). If he is serious about winning, Houston has the talent and the deep roster to do it now.
The other part of getting Bosh is it has to be a sign-and-trade with Toronto — and the Rockets have the pieces to make that work. Ford suggested Jordan Hill, Aaron Brooks and the expiring contracts of Jared Jeffries and David Andersen for Bosh. (It would be ironic if the Knicks lost out on Bosh because the Rockets could trade Jordan Hill for him.) Another possibility is Luis Scola and another player heading north. Either way, the Rockets have the assets to make that trade work better than any other team.
But Bosh has said he is waiting for LeBron before any deals are made. So the Rockets and everyone else waits.