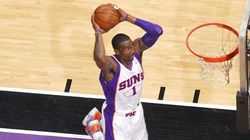 After a "first date" meeting with Miami Heat president Pat Riley — no word on if he got to second base — Amare Stoudemire's agent made one thing very clear.
"We're not doing anything that's not five years," Walters said.
That is from Paul Coro at the Arizona Republic (who rocks that beat hard, by the way).
Years on the deal appears to be the hang-up with the Phoenix Suns — they have been rumored to offer four years at $80 million. So Stoudemire is checking out the field. The Heat are going after Chris Bosh first, but if that falls through Stoudemire would be right there in line (along with Carlos Boozer).
Stoudemire also will be in Los Angeles for meetings this weekend, followed by a trip to New York to talk with the Knicks on Monday.
"The Knicks wanted to meet last night," Walters said. "We couldn't. We were busy. We'll meet Monday and that's better because (Knicks President) Donnie Walsh is a big part of it and Amar'e wants to meet with him."
Like everyone, things for Stoudemire will come more into focus once LeBron makes his decision, followed likely very quickly by Bosh. That's when Walters will really earn his money. And there should be a lot of it.