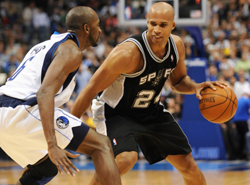 Yesterday, everybody went, "what, really?" when Richard Jefferson opted out of his $15.2 million final year with the San Antonio Spurs.
But he is already negotiating to come back to San Antonio next season, according to the San Antonio Express-News. And it really makes sense, if you think about it.
Several NBA sources assume Jefferson and the Spurs had at least the framework of a new deal in place before his decision to opt out.

"It's the only reason for him to opt-out," one rival Western Conference executive said.

One unconfirmed report circulating the league Thursday had Jefferson discussing a three-year, $30 million with the Spurs. Another placed the terms at a more robust five years for $45 million, with the final season likely only partially guaranteed.
Three years at $30 million seems steep, but maybe the Spurs nibble at that. If it is $45 million over five, they are nuts. And the Spurs are not nuts.
But the point is that the Spurs would still need to find a quality replacement for Jefferson on the roster and would struggle to do so with the mid-level exception, which is the most they can offer a free agent. So maybe they did work out a framework already, and while Jefferson will listen if other people call he is close to having a deal again with the Spurs.
And that scream you just heard was Spurs fans reading the last two paragraphs.