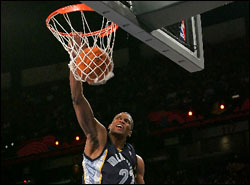 Is any free agent besides Chris Bosh going to change teams?
Rudy Gay isn't — he has agreed to a five-year, $82 million deal with a player option the last year to stay in Memphis. David Aldridge of NBA.com broke the story and Yahoo sports confirmed with his management.
"I think Rudy likes Memphis a lot," a
team source said
Thursday, "and I think we were in a position to make the best offer to
him. All of that helped us a lot … if Rudy puts his mind to it he can
be a
real franchise player–if he puts his mind to it and brings that focus
that
people like LeBron (James) and Kobe
(Bryant) have every night."
Reports are that Gay's people have started to cancel meetings with other potential suitors.
That includes the New Jersey Nets, who were expected to make a big run at Gay if — really, when — they lose out on LeBron James. We'll see what Plan C is for Mikhail Prokhorov.
That is a lot of money based on potential. Gay scored 19.6 points per game last season for the Grizzlies but needed 16 shots a game to do it. He's a very athletic, slashing wing player who can get to the rim, and shoots well inside of 15 feet (49 percent from 10 to 15 feet last year). As noted in the quote above, his mind can seem to go on walkabout at times. He also needs to finish a little better at the rim and improve his three point shooting (31 percent last season).
But he is already good and has all the tools. Watch him play and you come away impressed and thinking he could be something special. The Grizzlies have now bet big on that potential becoming reality.