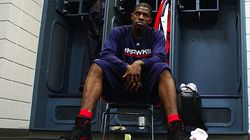 And in the first big free agent signing of the summer… nothing happened.
Joe Johnson will remain a Hawk and accept their max-deal offer (six years, $124.5 million), according to Adrian Wojnarowski at Yahoo Sports. Not a shock there. Johnson's people had been saying for weeks that ultimately he wanted to stay in Atlanta — not just because of Daddy Dz Barbecue — and if they made the offer, he would take it.
Atlanta may well come to regret this offer — they just paid a good player superstar money, they just paid a perimeter player big money until he was 34. The fifth and sixth years of this deal it could be a burden. A franchise with an estimated net worth of $306 million just agreed to a $124 million deal. But they got their man.
The Knicks also met with Johnson and made a max deal offer, but it is for five years and about $27 million less. Johnson was a guy the Knicks and a number of other teams has as their second tier targets. But Johnson was among the many free agents leery of going to New York if LeBron doesn't go there. Do you want to be the guy expected to be the savior of that franchise right now? Do you want to have to live up to those expectations? It's a lot to ask.
Houston, Dallas and Chicago also were trying to get meetings with Johnson, but that may all be moot now.