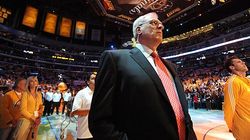 Phil Jackson made it official today — he is back for one more year as head coach of the Lakers.
"Count me in," said Jackson in the official statement on Lakers.com. "After a couple weeks of deliberation, it is time to get back to the challenge of putting together a team that can defend its title in the 2010-11 season. It'll be the last stand for me, and I hope a grand one."
This explains why Brian Shaw pulled his name out of the running for the Cleveland Cavaliers head coaching job a couple days ago, leaving the spot for Byron Scott to jump in. Shaw will be the logical successor for Jackson.
Jackson had said that his health would determine if he came back for one more year and underwent a battery of tests (even missing the Lakers championship parade to be at the doctor's office). Rumors from those around the Lakers were that while he may need off-season knee surgery to clear up an ongoing issue, he had a generally clean bill of health.
The other issue was pay. Jackson had admitted during the finals that owner Jerry Buss told him there would be a pay cut from the $14 million he made last season ($12 million base salary plus a $2 million bonus for winning the title). No numbers leaked yet on what he will make this go around.
Jackson will have the chance for a fourth three-peat of his career — two with Chicago and that Jordan guy, and the first one with the Kobe/Shaq Lakers. Despite all the shifting of power around the NBA, there are only a handful of teams that realistically could beat a healthy Lakers squad.