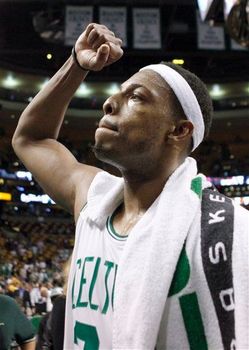 Can you really picture Paul Pierce in colors other than green and white?
Pierce apparently can't either. He has opened talks with the Boston Celtics on a new contract — and only the Boston Celtics. That according to ESPN.com's Marc Stein.
Pierce just opted out of the last year of his contract, worth $21.5 million. He almost certainly will not make that back this season, but like Dirk Nowitzki and others, he wants a deal under the current Collective Bargaining Agreement that will extend into the new one (which in theory will begin next summer and in reality will begin after the coming lockout).
The question will be years. Pierce will turn 33 before the start of next season and the Celtics will not want to be locked in with a big salary for four or five years. Pierce, as he should, will try to get as many years on the deal as he can.
But you have to figure they will work this out.