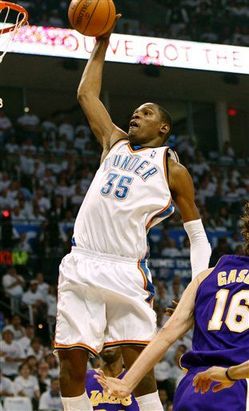 While we've all been watching the Gulfstream jets land in Akron, the Oklahoma City Thunder have gone about trying to secure their future as a powerhouse.
At 11:01 central time last night a team of Oklahoma City Thunder officials knocked on the door of Kevin Durant. They were there to offer a max extension too the future of the franchise on the first day they could, according to Sam Amick at FanHouse.
Durant has another year on his rookie deal, but the Thunder wanted to show their commitment to him. The max they can offer him is five years, $85 million, which would kick in when the rookie deal ends. The details were not hammered out in this meeting, but they will be soon enough.
The Thunder could have tried to save some money by waiting to offer an extension until next summer, then do it under the terms of a new Collective Bargaining Agreement (which almost certainly will lower player salaries).
But that is not how you treat a superstar. And Durant is that in the making. He is the ticket to glory in Oklahoma City. He is the guy that fills the arena and sells the jerseys. You don't lowball your superstar. You lavish them. Oklahoma City got it right.