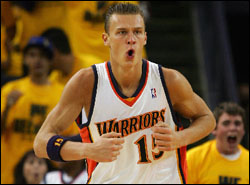 If Denver wants to win a title, they have to get past the Los Angeles Lakers first. And that is a tall order. Literally. The long front line of the Lakers — Andrew Bynum, Pau Gasol, Lamar Odom — has been a problem for Denver.
So they are going to solve that with… Andris Biedrins? Really?
But that's the rumor out of the Denver Post this morning, that the Nuggets are working to find a deal the Golden State Warriors would take for Biedrins.
Denver is stuck in a tough spot. On one side is the desire to win now — Carmelo Anthony has not signed his extension because he wants to see a commitment to winning. But right now the team has a big payroll that in this economy is leading to financial losses, so they would like to trim payroll.
Biedrins fits neither need. He is expensive — he has four more years at $9 million a year (the last is a player option). For a guy who gave you 5 points and 8 boards a game. On a bad team. To be fair, last season was a bad one slowed by injuries — the two previous seasons he showed a lot of potential and promise. But do the Nuggets really want to take on another big with potential but coming off an injury? Haven't they seen that movie?
The trade makes little sense for Golden State, either. They need to get tougher inside, so they would want a big man back. Even if Denver parts with him, do you trust Kenyon Martin or Nene to be the healthy, consistent big man they need?
This one doesn't make a lot of sense. But that has not stopped trades before.