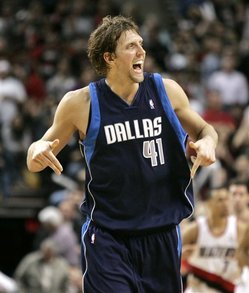 Dirk Nowitzki spent the majority of July 1st hanging out in New York City. According to the Associated Press, Dirk wasn't there to get pitched by the Knicks or the Nets. Instead,
Dirk spent much of the day hanging out with Jason Kidd
, a friend of Nowitzki's and the point guard for the Mavericks. 
Nowitzki is technically an unrestricted free agent, but most expect Nowitzki to re-sign with the Mavericks when it's all said and done. If Nowitzki doesn't return to the Mavericks, it's hard to imagine one of the league's most introverted stars joining the Knicks. (Donnie Walsh can offer bright lights and the big city, but the Knicks would have a very hard time convincing Nowitzki that his best chance to win a championship is in New York.)
Mavericks president Donnie Nelson said he isn't worried about Nowitzki's jaunt to New York, and is relatively confident that Nowitzki will be a Maverick next season:
Nelson said he remains "cautiously optimistic" that Nowitzki will remain with the Mavs, his only NBA team. Over 12 seasons, Nowitzki has become the club's career leader in points and rebounds, having won an MVP award and gotten Dallas to the NBA finals. But they haven't won a title and at 32 he realizes his prime years are fading.

Nowitzki opted out of a guaranteed $21.5 million for next season to become a free agent for the first time. He could re-sign for up to four years and perhaps get a no-trade clause added.

Nelson said he expects Nowitzki in town soon.

"Knowing him it could be any day," Nelson said. "He could get on any flight and try to slip in. It might be tomorrow, Saturday — who knows. When he gets here, we'll have a chance to settle quietly into a meaningful, heart-to-heart conversation."
These are uncertain times, but it does appear that a trip to New York is sometimes just a trip to New York.