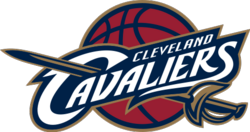 Do the Cavaliers seem desperate to keep LeBron James in Cleveland? They should. They have good reason. About 250 million reasons.
Losing LeBron would drop the Cavaliers franchise value by $250 million, according to a story in Bloomberg News.
"I wouldn't be surprised if the Cavaliers in a year or two are below the league average in terms of value," said Michael Cramer, the former president of baseball's Texas Rangers and hockey's Dallas Stars who teaches sports business at New York University. "One player has a tremendous impact, especially in the NBA, and especially when you're talking about one of the top two or three visible, recognizable players not only in the league, but in all of professional sports."
The last Forbes estimation had the Cavaliers worth $367 million.
Right now Cleveland sells out and has sponsors tripping over themselves to be associated with the team. They are on national television as much as contracts allow. They sell a ton of merchandise.
All of that goes away if LeBron goes away. The Cavaliers become another struggling mid-market team. And that doesn't even count the psychological damage to a city that has had more than its share of emotional damage inflicted by other sports franchises. Art Model, I'm looking at you.
So if the Cavaliers pitch to LeBron includes owner Dan Gilbert on his knees begging, I can forgive it. Whatever it takes.