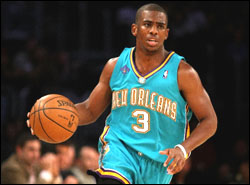 The Hornets keep saying they are not trading Chris Paul, but man is there still a lot of smoke coming from that direction.
Last week's hedge-your-bets statement from team owner George Shinn — we're not trading Chris Paul, but we'll look at any deal that improves the team — just threw more fuel on the fire.
Chad Ford writes on TrueHoop that teams are still trying to pry CP3 out of the Big Easy.
The issue is whether Paul is now unhappy enough to force a trade. The Blazers believe he is and will continue to pursue a Paul deal. They won't be alone. The Magic have been pursuing Paul and Okafor, offering expiring contracts and Jameer Nelson. But there are two other teams that could offer the Hornets even more.

Both the Knicks and Nets are planning to step up pressure on the Hornets if they don't land LeBron. Both teams have tons of cap space and can offer massive cap relief to the Hornets (to the tune of $100 million) if they take Paul and Okafor off their hands. The Knicks could also offer Danilo Gallinari. The Nets can offer Derrick Favors and Devin Harris.
Frankly, none of that is near value for Paul, who is the arguably the best point guard in the game and is inarguably the Hornets star attraction. He sells the seats, he is at the front of the marketing campaign. You can't hang pictures of cap space around the arena.
But if Paul wants out, the Hornets may have to act. The question is how much faith does Paul have in incoming owner Gary Chouest, and how much faith does he have in Shinn and Chouest getting a deal done? Because if the song is going to remain the same in New Orleans, Paul may force his way out.