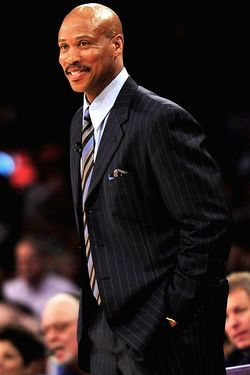 And suddenly, Byron Scott is the new coach of LeBron James. Or a team headed to the lottery. Check back in a few days for the answer.
Either way, Byron Scott is the new coach of the Cleveland Cavaliers, as Scott's agent confirmed to FanHouse.
Yesterday, all signs pointed to Lakers assistant coach Brian Shaw as the man. But talks stalled. Shaw's people were leaking the "it's done" rumor, maybe they leaped the gun. Maybe it was Shaw trying to drag the process out to see what Phil Jackson decided. Maybe it was LeBron James saying he preferred Scott.
My preferred theory: Shaw said he pulled his name out of the running because he couldn't meet the Cavs timeline. That to me sounds like he wanted to know what LeBron was doing, and the Cavs wanted a coach who would take their LeBron or no LeBron.
But pick any reason that fell through, any could be right.
Scott brings good and bad to the table. He is a guy who has coached the New Jersey Nets to the finals. He has coached teams led by stars — Jason Kidd in his prime and Chris Paul. He has the pedigree as a player, having been part of the Showtime era Lakers.
But he also has left both teams when players turned against him. He may not be a coach whose style allows him last long with a team.
What kind of team he has depends on what LeBron James thinks of him and the other offers that come in. And that is more unpredictable than the Cavs coaching search.