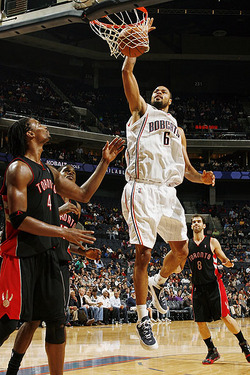 According to ESPN.com's Chad Ford, Bobcats center Tyson Chandler will not opt out of the final year of his contract. Chandler had the option to leave the $12.6 million he is owed next season on the table and become an unrestricted free agent this summer, but ultimately chose to stay in Charlotte. 
There's almost no way that Chandler would have gotten 12.6 million dollars next season had he opted out. However, if he had opted out, Chandler may have had the chance to take a massive pay cut and play a key role on a "super-team." 
For all the great players on the market this off-season, Chandler would have been one of the few starter-quality centers and one of the best interior defenders available in free agency. With all the talent available at the 2, the 3, and the 4 this off-season, there may have been some demand for a shot-blocker who doesn't need the ball in his hands to be effective offensively.
But all of that is just speculation now. Chandler is staying in Charlotte, and the Bobcats should continue to have one of the league's best differences. And if Chandler can get healthy and play like he did during the 2007-08 season, he might get himself a much bigger contract in 2011 than he would have this off-season.