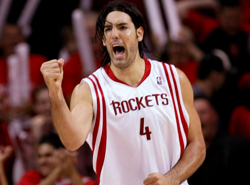 Scola isn't the most athletic power forward in the league, but he's become an effective starter thanks to some crafty moves around the basket, a surprisingly solid mid-range jumper, and a crafty veteran's ability to be physical without getting whistled for it. 
Lowry is sort of a mirror image of Scola; he isn't the most skilled point guard in the league, but he's a tremendous backup thanks to his athleticism, unselfishness, and tenacity. 
Because Yao Ming will not be opting out of his contract, Scola and Lowry are the only Rockets who will be free agents this summer, and they'll be restricted ones at that. With many of the 29 other teams in the league frantically wheeling and dealing to either keep their players or add new ones, it looks like Daryl Morey and Co. might just be keeping his entire team together this off-season.