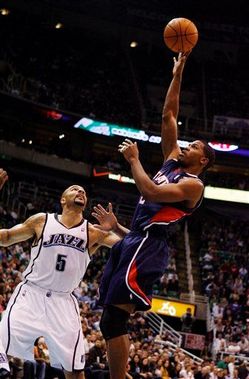 There is almost no bigger mistake a GM can make than paying a good player superstar money.
That said, the reliable Michael Cunningham at the Atlanta Journal Constitution is reporting that the Atlanta Hawks want to keep Joe Johnson badly enough to offer him a six-year, fully max contract.
If so Johnson will take it. He has said he wanted to stay in Atlanta all along, but this free agency was about getting the most money he could. Nobody can offer him more than Atlanta.
If true, that would blow up plans in New York, where Johnson was considered part of Plan B when they fail to land LeBron James. Johnson has also been rumored to be high on Chicago's wish list.
Johnson is good, an All-Star and one of the more trusted perimeter shooters in the league (he shot 40 percent on long twos and 37 percent from three last year). He is a key cog in an Atlanta Hawks team that has won at least 47 games and made it to the second round of the playoffs two straight years.
But while good, he is not a true max contract guy — he cannot carry a team, he needs to be paired with another star or two for a team to win. It has been evident the last couple years, he was part of the reason for the playoff meltdowns.
And at age 28, six years is simply two long a deal. Anything beyond three is a risk, as wing players traditionally see their game slip in their early 30s. The Hawks will regret the last couple years of this deal, if it is true. They really may regret all of it as it will hamstring their ability to build a team around him. But reports are they really want to keep him.