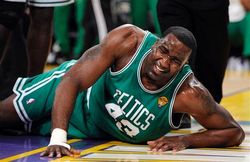 The hits just keep coming for the Boston Celtics. Losing game seven of the NBA Finals in heartbreaking fashion would be enough to ruin an entire offseason for most teams. In Boston, losing game seven was just the overture to an off-season of uncertainty and misery. 
On Tuesday, 2008 Finals MVP and franchise mainstay Paul Pierce opted out of his contract. A few hours later, Celtics fans were treated to the news that the knee injury Kendrick Perkins suffered during Game 6 of the Finals is much more serious than it was originally believed to be. 
According to Mark Murphy of The Boston Herald, a post-game 7 MRI on Perkins' knee
revealed that Perkins had torn his ACL.
Perkins will undergo surgery on the knee a week from Tuesday. If all goes well, Perkins will be out of action until late December or early January. It's tough news for Perkins, who has played in at least 72 regular-season games in each of the last four years. 
To recap, the Celtics aren't sure if Doc Rivers will return. They have already officially lost Tom Thibodeau, a defensive wizard and perhaps the best assistant coach in the league. Their starting center will not be in the lineup on opening day, and their starting wings are both unrestricted free agents. 
Not that long ago, the Celtics were 12 minutes away from an NBA Championship. Today, the Celtics don't have much more than an emerging young superstar, cap space, and the hope that everything will work out okay for the league's most decorated franchise. As of this moment, it doesn't look like the Celtics will replicate their 2010 playoff run any time soon. However, if the Celtics' 2010 playoff run taught us anything, it's that writing off the Celtics too early can be a big mistake.