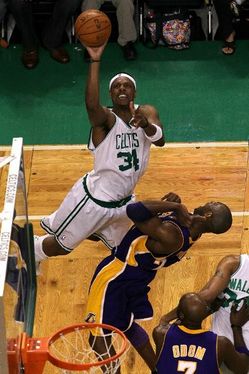 Can you picture Dwyane Wade as a Celtic? Chris Bosh? Even that other big name? Reshaping the Celtics around that player and Rajon Rondo?
It's not impossible. But it's not very likely either.
Here's how it shakes out. The Celtics have more than $15 million in room under the cap on paper, but not in reality. Yet. Pierce opted out of his contact, but under the terms of the Collective Bargaining Agreement there is still what is called a "cap hold" on the Celtics. It holds the place of the salary the Celtics are expect to sign if Paul Pierce came back. The goal is to prevent a team like the Celtics from signing Wade or another free agent, then re-signing Pierce and Allen using their "Bird rights" (the rights of a team to go over the cap to keep a player).
What that means in English: To sign a top free agent the Celtics could have renounce their rights to Paul Pierce, Ray Allen and every other free agent on the roster. Sorry Tony Gaffney.
That all combined with the retirement of Rasheed Wallace — which he announced but is not official with the league yet — would leave the Celtics just $55,000 short of one max contract.
However, renouncing the rights means the Celtics cannot bring Pierce back. At all. He is off to wallow in Clippers losses, or wherever he lands.
All of that does not sound like what Danny Ainge has planned — he wants to work out a deal with Pierce. That's what he told the Boston Herald.
"There's too many other things that factor in right now," said Ainge. "Who else can we get? But it's not all dependent on getting Paul back. I don't think it all rests on his shoulders…"

Ainge would rather negotiate with Pierce than renounce his rights, pointing to the fact that the Celtics general manager still believes that his captain still wants to return – albeit at a heavy cost that could tie up the team's flexibility for four more years.
Pierce could tie be given a four-year, $96 million deal (that's what he wants, not to be a free agent under the coming and less fun for players CBA). But with Garnett's contract expiring in two years, would the Celtics want to tie up their salary cap for four years, slowing the eventual rebuilding around Rondo? Would Pierce accept a two year deal? Two years with an option for a third? At less money than a max deal?
Ainge has some hard choices ahead. Do you start the rebuilding now? Can you get a player of decent quality of Pierce goes? Do you really let an iconic Celtic like Pierce finish his career as a Clipper?
Hard times, hard choices in Boston.