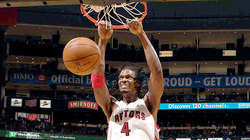 When the midnight bell strikes tonight and phone lines light up across the NBA, the Chicago Bulls are not going to call LeBron James.
Oh, they want him. Big time. They will be in Cleveland to make their pitch to him. But the Bulls think the way to James' heart is not through fancy dinners but rather through building a winner.
And Chris Bosh is the cornerstone to that — frankly just Bosh with Derrick Rose and Joakim Noah could be very good — which is why he is getting the first call, according to the Chicago Sun-Times.
The strategy is brilliant, because while LeBron is the big prize Bosh is the lynchpin to it all. Plus getting Bosh would thwart the plans in Miami, New York, Toronto, Houston and other cities. And isn't screwing over other teams part of the fun?
The problem with locking up Bosh fast is that he has options. And he'll want to listen to them.
He'd also like max money — not free agency max money, but sign-and-trade max money. That presents all sorts of problems. Starting with: What talent would the Bulls be willing to give up, and the Raptors accept, in a Bosh trade? Luol Deng clearly would be a part of any deal, but what if Toronto demands Taj Gibson, too? At what point is the price too steep.
Then, if Bosh is brought in on a sign-and-trade, would LeBron come in as a free agent making a little bit less?
The current crop of free agents have all talked about sacrificing to win, but the size of contracts is an ego thing that is in play in every NBA locker room. Contracts help determine pecking order, determine who the big dog is. If Bosh were making more than LeBron — when LeBron was the better player and would be asked to carry more of the load — how would that sit with LeBron.
It could be an issue. But it is one Chicago is willing to risk, because just having Bosh would be a win. So he gets the first call.