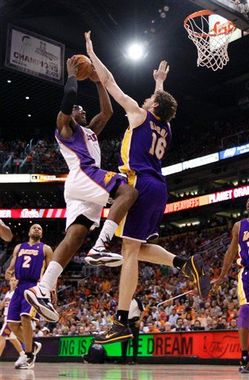 Come midnight — or 9 p.m. out in Los Angeles where he is stationed — Amare Stoudemire will become a free agent. He will sit while gentlemen callers to come knocking on his door to court him.
But there is a chance he stays in Phoenix. Slim but it exists.
After three hours of meetings Tuesday and more on Wednesday, Stoudemire has opted out of the last year of his contract with the Suns, according to Adrian Wojnarowski of Yahoo (who was first but this has been confirmed by several sources now). However, he will continue to negotiate with them as well as the other teams out there.
There will be a lot of demand for Stoudemire's services — paired with Dwyane Wade in Miami, or as a key part of rebuilding New York or New Jersey. Chicago and other teams may be in the mix as well.
But it will come down to money. Always does.
Phoenix would not offer a max contract to Stoudemire as he wanted. If another team — particularly another team that can win — does so, expect Stoudemire to jump on it.
This is a big kick at the can for him, and he is not walking away from $17.7 million just to take less and play along side someone good. He could do that with Steve Nash. Pay the man his money. Everything else is secondary.