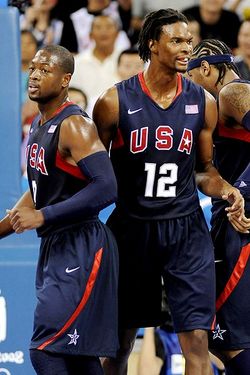 UPDATE 11:12 am: The Miami Herald and other sources are reporting that this summit did not happen in Miami. Turns out Wade spent last weekend in his hometown of Chicago. Although ESPN's sources say they were all together in Miami.
Whatever. See, there is this fancy new technology called the telephone where the three of them could have had a conversation from wherever they were in the world. Amazing, I know. So to recap, a summit may have happened, but maybe not face-to-face one in Miami. And it may all not matter because they could talk any time they want.
10:24 am: Call it a summit, a book club, or whatever you'd like, but LeBron James, Dwyane Wade, and Chris Bosh have met to determine the league's future over a nice game of Parcheesi. What an ominous yet delightful development!
The particular endgame the three are discussing is a future in which James, Wade, and Bosh all play for the Heat. Miami doesn't have the cap space for such an unprecedented move as of yet, but they'll continue trying to clear as much cap as possible to keep this dream alive. They just have to move Michael Beasley's deal, and Pat Riley has been on the phones begging other GMs to do just that. Our own Ira Winderman reported he may have found a landing place, but nothing has been made official yet.
Reports have LeBron James as being the non-committed one to this idea. The man wants to be courted, he wants the teams to come to him and tell him how much they love him. Then he will decide, and Miami may now be a front runner. But first, he wants to be wooed.
The thought of the three biggest prizes of the 2010 free agent class all ending up in Miami is…frightening, to say the least. Supposing the Heat do end up moving Beasley, then Mario Chalmers and second round selections Dexter Pittman and Justin Varnado would be the only locks for the roster. The rest would need to be picked up using cap exceptions and minimum contracts. However, given the drawing power of the triumvirate, I'm sure a few capable veterans could be persuaded to sign for a discount.
If the three are to ever team up, it would require sacrifice. The price of converting three incredible, distinct talents into a supergroup would be substantial, particularly for their individual résumés. Initially, someone would have to sacrifice money; even if the Heat shed Beasley's contract in order to have a realistic chance of signing all three free agents, they won't have enough cap space for three max contracts.
Then, all three would likely have to sacrifice in usage. James, Wade, and Bosh are all high-usage superstars, and while their combined presence would open up easier scoring opportunities for all, it would also decrease their general frequency. It seems unlikely that any of the three players would be able to maintain their current statistical excellence if they were sharing a ball. Stats don't mean everything, but they do factor into current evaluations of their game, All-NBA selections, Hall of Fame chances, and eventually help to determine their place among the all-time greats. After all, how often are numbers used for historical comparison, regardless of context?
If the thought of neo-Miami's core is remarkable, it's made even more so by the level of subjugation required to obtain it. This would be more than three superstars in their prime wanting to play together; James, Wade, and Bosh would all have to surrender their egos, their touches, their production, and their excuses at the door. If they fell short of an NBA title, there would be no wiggle room, as each would finally have at least two teammates worthy of their own impressive skills. That may not be an issue, though. The sheer force of James, Wade, and Bosh alone would incite an all-out panic across the league, and there's a distinct possibility that they could rule the NBA with an iron fist.
But only if they decide that it's really worth it. Only if they conclude that recognition of their work as a collective is enough to sustain them for the next few seasons. Only if three guys who have played up this summer's market, promoted themselves, and been showered with attention suddenly determine that they don't need all eyes on them and them alone. Only if they sacrifice the money, their places in the record books, and surely some individual awards along the way. Only then can we start reserving trophies for the new-and-improved hypothetical Miami Heat, the team that would somehow act as a caricature of the superstar system while defying it.