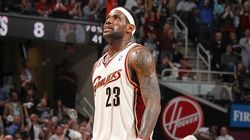 It's about influence. And power.
Influencing LeBron James decision on where to play next year, because it will add or subtract to the power of someone around him.
Earlier today we talked about how it is better for William Wesley if LeBron James moves on from Cleveland. However, for Maverick Carter and LeBron's high school friends have more power if he stays in Cleveland.
So now we get this from Jonathon Abrams in the New York Times:
But Maverick Carter, James's longtime business manager, said Tuesday that Wesley would not play a role in James's deliberations and would not be present as various teams visit his client in Ohio.

"All the Wes rumors are untrue and he will not be at the meetings," Carter said. "Wes has nothing to do with where he goes."

James, Carter and James's agent, Leon Rose, are scheduled to be at the meetings…
Sure, there's no power struggle around James.
The thing is, Wesley was the guy who guided James to Leon Rose. The two have worked together for years. If Rose is in the room, the spirit of Wesley is in the room.
And Wesley wouldn't want to be in the room anyway. He is the back-room deal guy. Although some of his recent steps — like trying to get teams to trade for Chris Paul to pair with James — seem a little far fetched.
We are only seeing glimpses of the picture. We do not see the whole tapestry. But what we do see looks familiar — men fighting over power and influence. Just in a different setting this time.