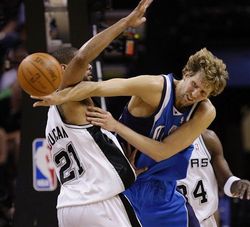 Come midnight Thursday morning (or a much more reasonable 9 p.m. Wednesday on the West Coast) Dirk Nowitzki becomes a free agent. He is officially part of the class with LeBron, Wade and Bosh.
But not really.
He is opting out of the last year of his deal, ESPN's Marc Stein is reporting. The letter has been sent and received. That would be $21.5 million he is walking away from.
But he's getting more long term. Nowitzki will negotiate a new, likely four-year deal with the Mavericks. He is not testing the market or really listening to other offers.
Dirk wants a longer deal under this Collective Bargaining Agreement that stretches into the next one. He makes a little less this year, but makes more in the long term. The terms of the deal have yet to be hammered out. A max deal would be in the four year, $96 million deal. Mark Cuban would love to save a little money long term and shave $10 million or so off that total.
But the two sides will reach a deal. Nowitzki will be in a Mavericks uniform when the season tips off next year. The bigger and better question is who else will be in that uniform.