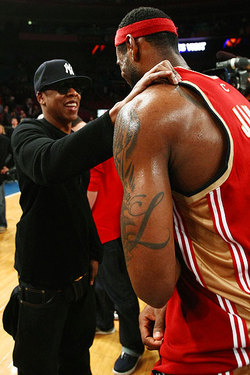 Right on the corner of 34th and 8th in Manhattan, overlooking Madison Square Garden, looms the billboard of two people:
Mikhail Prokhorov and Jay-Z.
The two owners of the New Jersey Nets. On the billboard it has the Nets logo and says "Blue Print For Greatness."
The message is not subtle — the Nets are coming to New York and after Knicks fans. As part of that, Nets are taking their new marketing campaign right into the heart of Knicks country, as the Bergen Record reports.
"That billboard is the anchor to an aggressive marketing platform for key transit hubs from Manhattan to Newark," said Nets CEO Brett Yormark, the likely mastermind behind this. "It's a pretty aggressive campaign around free agency. It's one of the biggest advertising spaces in the city. What better place to make a statement."
At the introductory press conference after Prokhorov bought the Nets, he said he planned to turn Knicks fans into Nets fans. That could start by luring a big free agent, something the Nets are far closer to doing than the Knicks.
And when free agency starts Thursday, Prokhorov and Jay-Z will be pitching LeBron first. They have a real shot, The Knicks, well they have already started to try to spin it all.