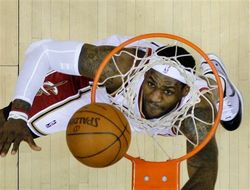 The LeBron James situation has gotten so crazy that Bodog — the online gambling site that you tell your girlfriend you never visit — has taken down the odds down on where LeBron will land. It's all too unpredictable for bookies right now.
Unpredictable in part because what is going on close LeBron is unpredictable. The inner circle that is supposed to be there for him is made up of old friends, some of whom have their own agendas. What is getting whispered in LeBron's ear has all sorts of motives behind it, as Yahoo's Adrian Wojnarowski pointed out.
For example, William Wesley has reason to tell him to move on.
"If LeBron leaves, Wes is going to get carte blanche wherever he signs," one source told Yahoo! Sports. "He's going to have the run of the place, and he doesn't have that in Cleveland. He has access there, but Maverick Carter is the guy with the keys there. …[Carter's] much more influential, and would always be in Cleveland."
Maverick Carter and LeBron's high school buddies may well push to stay in Cleveland, to remain the big fish they are now.
Beyond James' own sentimentality and belief of staying the course with Cleveland, the best chance the Cavaliers have to re-sign James likely belongs to Carter, his business manager, and the high school buddies on the payroll. Should James leave for the bright lights and big cities, his childhood associates become less relevant, less impressive. "No one cares about those guys walking around in Chicago or Miami or New York," one league executive said.

James' friends have had the run of Cleveland for seven years, unchecked power within the corridors of the Cavaliers organization. Around Cleveland and nearby Akron, where they were brought up with James, they don't need to have the two-time MVP surrounding them to be considered VIPs. Maybe that doesn't end with James elsewhere, but it dramatically changes.
Sadly, this scenario is not all that different than what many NBA players (and other pro athletes) face, save that the push and pull on LeBron from his closest advisors is playing out on a grand stage. These players trust family or friends to be key player around them, to give it to them straight, rather than trusting professional agents and people with more experience. But those friends and family may be on the gravy train as well, they have their own agendas, and they don't really know how to navigate the waters anyway.
The results range from falling draft stock at the start to bad free agency decisions later, not to mention missed marketing opportunities and the like. Family and friends, even well meaning ones, are overwhelmed by what comes at them. Then there are the people just there to rip off some athletes.
James' friends are not there with the intention of hurting him, they see themselves as advisors watching out for him. The power play won't be this naked. But the advice LeBron gets will be tainted with self-interest.
And he's the one that has to live with the decision.