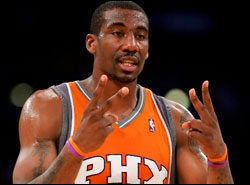 Tuesday afternoon, the Phoenix Suns will sit down one last time with Amare Stoudemire and try to convince him to stay.
To stay with a team that made it to the Western Conference finals. A team with Steve Nash. A team where the style of basketball is fun.
Stoudemire's agent told FanHouse that Stoudemire will listen. But what he wants more than a sales pitch is a max deal offer.
"Anything is possible, but I tend to agree with what (Stoudemire) said several weeks ago," Walters said of Stoudemire likely opting out but still keeping alive the possibility of re-signing with Phoenix. "But it can change. So I don't want to say anything until (it's heard what the Suns propose)."
Steve Kerr, the Suns GM whose contract expires Wednesday, will not be part of this meeting. But it will be the same old song and dance as previous meetings — Stoudemire will want the max deal, the Suns will offer less, he will say thanks but I want to see what else is out there.
The fact that Stoudemire is in Los Angeles with meetings already scheduled with other teams such as Miami — unofficially, of course, because they can't have official contact thanks to the NBA's inconsistently enforced tampering rules — is a sign that he doesn't expect this meeting to end with a deal.
But there will be a meeting. And likely some polite begging.